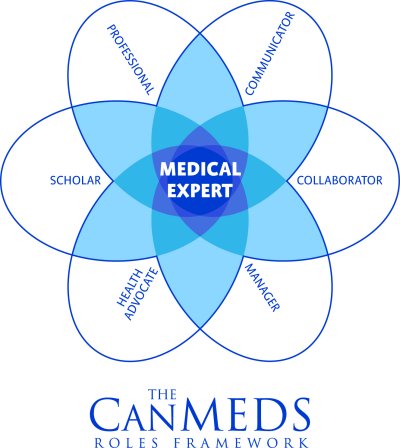 The CanMEDS framework is a guide to the essential abilities physicians need for optimal patient outcomes. Fundamentally, CanMEDS is an initiative to improve patient care.  The framework defines the competencies needed for medical education and practice.  This framework of core competencies are organized thematically around 7 key physician Roles: 
Medical Expert 
Communicator
Collaborator
Manager
Health Advocate
Scholar
Professional 
The vast majority of experiences in surgical training are devoted to increasing competence in the Medical Expert role. Through reading, didactic teaching, and clinical and operative experience, residents will build basic knowledge and expertise in the care of surgical patients in every rotation and every educational encounter. Other CanMEDS roles can be taught at grand rounds or academic half days, but teaching of non-Medical Expert roles might be more effectively accomplished in the context that the roles are most intensely needed. For example, discharge of patients from a trauma service into the community provides an important opportunity to explore issues in Health Advocacy for junior residents, while trauma resuscitation situations provide an invaluable context to teach and evaluate the performance of the Manager role for senior residents. Similarly, attendance of and participation in multidisciplinary tumor board meetings on a surgical oncology rotation may illustrate the importance of surgeons as Collaborators in addition to Medical Experts. In our program, the busy, resident driven Acute Care Surgery service, with multiple trainees at various levels, will be used to run a clearly defined Surgical Residents as Teachers program that will be used to illustrate key aspects of the CanMEDS Scholar role. Finally, the busy general surgery rotation in Victoria will be used to set the stage for discussion of the importance of clear Communication between services, staff and patients in advancing care and optimizing outcomes. While all clinical rotations ultimately provide exposure to all CanMEDS roles, recognizing specific rotations as hubs for certain non-expert roles, allows explicit objectives to be expanded, formalized, and evaluated in detail and according to level of training.   
Our program is also attempting to create relevant strategies for teaching and learning CanMEDS roles outside of conventional rotations. Development of excellence in most CanMEDS roles requires an approach of graded responsibility and sophistication (in order to be relevant to level of training) and sustained effort throughout one's residency and career. A longitudinal approach that cuts across rotations and years of training for teaching certain roles shows residents that their Medical Expert and non-Expert development can be balanced and sustained throughout their professional lives. For example, our Surgical Residents as Teachers Program, a key aspect of our CanMEDS Scholar training, starts in the first year of training with a two day retreat, where the importance of residents as teachers is emphasized, and where fundamental principles of bedside teaching and learning are highlighted and discussed. This initial exposure is supported and advanced at academic half day sessions throughout the year. Furthermore, our Acute Care Surgery rotation has expanded the profile of teaching in its goals and objectives for junior and senior residents, and in the corresponding rotation in-training evaluation reports. A similar cross cutting or longitudinal approach, with increasing sophistication and responsibility, is also being taken in our Surgeon Scientist Program and Surgery and Global Health Program.